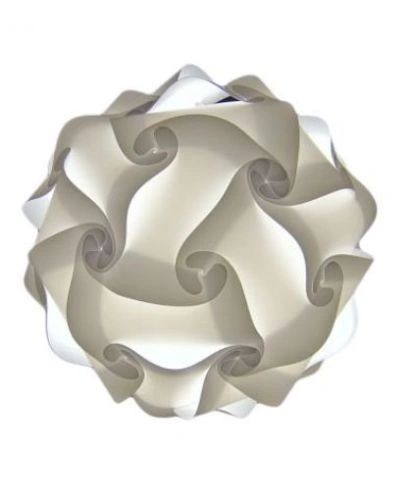 Description
Iconic piece of lighting design
One of the most popular light shades around, this sphere shaped lampshade COSMO is more than just a lighting option, it's an iconic piece of lighting design's history.
The Cosmo light shade is out of this world, a design classic that'll suit any room. Resembling a round, globe shape, these designer ceiling lamps give an evenly diffused, ambient glow and were inspired by the 1970s IQ light. These retro looking, seventies style ceiling lamps look great in almost any room. Simply installed and for use with the pendant cable hanging from the centre of a ceiling, that's installed as a standard light fitting for most housing in the UK. Alternatively, create a mood with lights suspended above a work surface or table, or in a corner. With the option to attach to a switched cable and plug fitting they can even be used as a freestanding lamp on surfaces or floors. A stylish shade that provides wonderful interior lighting for dining rooms, bedrooms, hallways and living rooms of all shapes and sizes...cosmic!
Supplied boxed and ready to be turned on, Cosmo hangs from the central ceiling pendant cable with no need for any other fittings other than a bulb, use an energy saving bulb equivalent to 40watt or under incandescent, max 60 watt.
Made from 30 pieces of identical white polypropylene plastic.
COSMO is available in 4 sizes:
Small 25cm diameter




Medium 32cm diameter




Large 45cm diameter




Extra

Large 50cm diameter